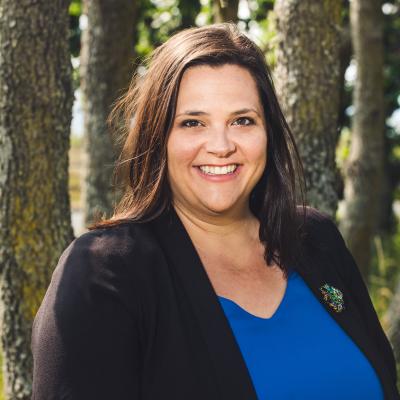 Executive Director
Renee is a Certified Nonprofit and Voluntary Sector Manager with 15 professional years and over 20 years of volunteer experience in the sector. Having previously worked with an international child rights NGO and provincial sustainable energy association, Renee brings her vision and passion to serve the community as Executive Director. She joined the team in 2017.
Renee began her career with the International Institute for Child Rights and Development where she quickly grew her skills and knowledge through the roles of project assistant, administrative coordinator, and administrative director. From there she joined the team at the BC Sustainable Energy Association as project director and administrative director. She brings her multi-disciplinary background in administration, programming, marketing and communications, ICT, finance, operations and leadership to OBVS with the priorities of a) helping more clients live independently b) ensuring to offer a quality volunteer experience and c) sharing the importance of OBVS's mandate with the community.
Renee is a passionate volunteer with over 20 years dedicated to local organizations including UVic's Multifaith Services Advisory Committee, Victoria Women's Transition House, UVic's Positive Space Network, Victoria General Hospital and the Victoria Racquet Club Minor Hockey Association. She is currently the Board Treasurer for the International Institute for Child Rights and Development.
Originally from New York, Renee is thankful to call Victoria her home, which she shares with her husband Roy and two sons.